Such is Life - Audio USB.
Read by John Derum, an Australian actor who has specialised in the adaptation and performance of Australian writers such as C.J.Dennis, Joseph Furphy, Henry Lawson, A.B.Paterson among many others.
1 USB Sitck. RRP $30
---
Child lost on Goolumbulla - DVD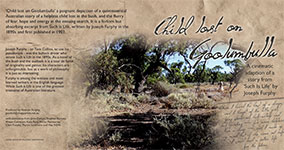 Filmed by Andrew Furphy
'Child lost on Goolumbulla' a poignant depiction of a quintessential Australian story of a helpless child lost in the bush, and the flurry of fear, hope and energy in the ensuing search. It is a forlorn but absorbing excerpt from Such is Life, written by Joseph Furphy in the 1890s and first published in 1903.
RRP $15
Make an order Watch it free on youtube
---
"The Works of Joseph Furphy"—HALSTEAD CLASSICS editions
Halstead Press aims to make all of Joseph Furphy's writing available in convenient paperback editions with large enough type and pages for comfortable reading.
Already available are Such is Life and The Buln-buln and the Brolga. Furphy's story "My Uncle's Treasure" is included in the anthology War in Words. His biographical letters are quoted abundantly in Miles Franklin's biography, Joseph Furphy: The Legend of a Man and his Book.
Halstead's next Furphy project is a volume containing all the short stories and poetry, selected literary letters and journalistic pieces. Rigby's Romance will then need an annotated volume to itself.
---
Joseph Furphy commemorative boxed set.
The Buln-Buln and the Brolga
Joseph Furphy: The Legend of a Man and His Book by Miles Franklin.
Such is Life Annotated
3 VOLUMES BOXED TOGETHER. RRP $65
---
Such is Life
Annotated.
Such is Life is one of the wittiest, most learned books in our language and, for many, the great treasure of Australian literature. But to appreciate it fully you need a wealth of knowledge. In the annotated edition its many treats are brilliantly explained. This HALSTEAD CLASSICS volume includes an enlargement of the complete original text published in 1903, along with 160 pages of explanatory notes, a map and an index.
215mm x 153mm. PAPERBACK. RRP $30
"Their . . . annotations are learned, witty, judicious . . . Any reader can graze through these 'short and simple analyses', with sustained delight, reading them perhaps as an elegantly informative kind of art alongside the thronging life of the novel itself."
Chris Wallace-Crabbe, Australian Book Review
---
The Buln-Buln and the Brolga.
Another masterpiece from the author of Such is Life—simpler, shorter, full of powerful insight. The Buln-buln is Fred Falkland-Pritchard, a liar with the gift of believing his own tall stories. Bob—the Brolga—is the most uncivilised bushman you'll ever meet. Their get together with Tom Collins, and Fred's politically correct young wife, is an amiable, comic encounter, with a brooding dark side. With his lightest touch, Furphy confronts us with death, deceit, the unsustainability of marriage, and the embarrassing brutality of pioneering encounters with Aborigines.
215mm x 153mm. PAPERBACK. RRP $20
". . . his most concentrated and comic achievement"
The Bulletin
---
JOSEPH FURPHY: The Legend of a man and his book by Miles Franklin.
Miles Franklin was in her 20s in 1904 when 61 year old Furphy sent congratulations on My Brilliant Career. Such is Life had just been published and a literary friendship blossomed. Apart from telling the story of his life, she selected many of Furphy's fabulous letters, which are included in this new edition of the 1944 biography, that put Furphy on the map as the doyen of Australian literature.
215mm x 153mm. PAPERBACK. RRP $25
The man who wrote Such is Life . . . by the woman who wrote My Brilliant Career.